Biomechanics – About
Our Insoles
In 1999, Ronan Ryan established a foot orthoses manufacturing company "Orthopro Limited" which specialises in the manufacture of Bespoke foot orthoses for the prevention and treatment of injury in Diabetic, Rheumatoid and Athletes feet. Orthopro Limited also supplies a range of prescription insoles.
Prescription insoles are pre-fabricated orthotics that can be fitted right away after our biomechanical assessment. Below are our current suppliers: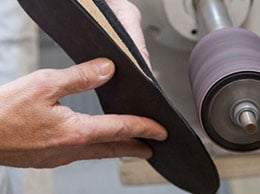 Orthotics are insoles that are custom made to suit an individuals needs and their lifestyle.
Your feet will be examined in our biomechanic assessment appointment.
A cast of your feet will be taken
Orthotics are then custom made by our own orthotist.
Ready for fitting usually within a week.
Follow-up appointment to ensure functionality of the device.
Six months review to ensure the continued functionality of the device.
* Pricing on the fees page is all inclusive of the full process above.